Who is online?
In total there are
2
users online :: 0 Registered, 0 Hidden and 2 Guests
None
Most users ever online was
39
on Wed Jul 03, 2019 6:27 pm

18th of Arodus 4710

Well, Its time to write some things down again... Despite the 'evidence trail' it may create. But what the heck, if you broke my own special code... you deserve to read it.

It's good to be back in civilization. Well, as close to civilization as this backwater place can get... Still the bath's are hot and there's a smaller chance for catching diseases. So I'm happy!

It's been over a month since we all woke up on the island, and through disease, pain, and cannibals we all survived the experience. Except those that didn't... but they weren't part of OUR group... so that's not our fault.

The nice folks of the South Arcadian Whaling company were kind enough to rescue us. I now know more about whaling then I ever thought possible, or wanted to know... Still, it was a pleasant enough trip and soon enough we arrived back in the REAL world...

The only 'incident' worth mentioning was when Aerys lost her mind and started hitting me. Y'know... I thought it was funny when it happened to Reegan. Less funny now. Some people just can't take a compliment, Soooooo Regardless of how good she looked, she's no longer welcome on our expedition!! Too bad about Sasha....

Lost on the island, my main goal was admittedly trying to survive. Since that's been accomplished we've moved back to the reason we left Absalom in the first place. To become Blind, Stinking, RICH!!!

Deklan may have the key to that. After stabbing Iena in the face repeatedly, The mage and the Alchemist started to decipher her notes... Perhaps I should say ATTEMPT to decipher her notes... they worked long and hard on it, and Jask was helping... and honestly it was nice to see them all dedicated to a puzzle. They seemed happy...

And it left me time to wander the streets and drink something COLD for a change...

Regardless... We knew that Deklan had found information on Saventh-ye... supposedly where all the ancient people of the world stored their wealth... Treasure, gold, riches galore... Despite the WONDERFUL experiences I had in the jungle before... I'm ready to jump right back in!! It helps to plan ahead... Look to your goals... I think I'll buy a city. Not a huge one... but big enough!

Downside... somehow the whole city knows that we have information about the city. HOW is a little fuzzy, but I blame the gnome. Despite how close some of our group had gotten from dealing with death and adversity... HE wasn't in our group... HE couldn't keep his trap shut... He also didn't think much of me, despite the fact that "I" was fighting cannibals while HE was 'supervising fishing'. WE found the lighthouse... WE got it going... EVERYONE on that beach should have worshiped us as heroes...

Just my opinion...


Soooo Somehow, the entire city knows about us... and we've started to get offers for funding expedition... Jask is routing for the government... Deklan is routing for the Pathfinders... I don't really care HOW we get there, as long as we get first crack at the treasure.

After TOO much talking... it was decided that we would go with the Pathfinders. They seem 'less' likely to cheat us, though if they ever have to choose between cave rubbings and a crown of gold, there's no doubt which they'll choose. Suits me... Less competition for the 'good stuff'

Downside, Jask won't go with us now... He's joining up with the Sargava government and excused himself from our planning... It made for some awkwardness with Reegan, and I'll miss Jask... but hopefully we can find another priestess to go with us... The jungle can be VERY dangerous...

While the others have been dealing with the arrangements with the pathfinders and such... I've done what I do best... get, (and give) information. I made a decent show of collecting every Mwangi map I could find, and then found a quiet part of the bar to just make notes... and of course listen...

From what I can tell, the Aspen Consortium are going to be an issue... they are paying MASSIVE chunk of money just for agreeing to GO into the jungle. Even MORE when they reach the city... To me that speaks of confidence... They seem to have little doubt that they'll actually GET there... they just want the best mercenaries for when they do...

A Free captain named Casada Lewind also has been offering money for information... Her I'm less worried about. Even considered selling some of what I know... At that moment it wasn't much... and I wonder what the going price would be? Besides... She's not asking for crew... and pirates in the jungle?!?! Bahhh.. No threat there...

The government... ehhh... they plan on taking more than enough men to be an issue whether they know where they're going or not! I don't really want to be in their way when they get that machine rolling...

Still... Couldn't help but screw with them at least a little. More than one person seemed to show an unhealthy curiosity in my maps... I wish them the best of luck. I had my notes scattered about, and the inscriptions I was making on the map were....

Follow the big water to meet the dawn
On the Third day turn left at the shrine of the beheaded god
two days without stopping will bring you the city of glory.

When compared to a map... It should correspond with Lake Oocota in the middle of Mwangi jungle...There's a river heading east... I don't know what's there... but anyone who plans on looking over my shoulder, or worse holding one of us hostage for information... well, now I have something to give them. Good Journey to them!

Without Jask, I was drafted into helping decipher. I know more than my fair share of languages... and Kali's been working on 'Polyglot' with me... Nasty language THAT is... reminds me of goblin... But regardless, Now I'm trying to help with the language than the 'intelligent' people have been working on for over a week. FUN TIMES!!! Apparently they don't understand exactly HOW much I missed the city...

After a few hours... I pointed out that AIELNL was in fact a verb. Apparently THAT made all the difference. The scrolls went much faster then, though Deklan kept most of the information to himself...

And then promptly got the scroll stolen!!

Kali was able to track them through some kind of tribal magic... and I recognized the person she described. He's been around the bars that I was at... though I didn't seem him aligned specifically with any one faction. Through a couple of potions and spells of detection... Deklan tracked down the wayward scroll. Near the jewel market and warehouses... Somehow he found a pack of wild dogs... Normally I like dogs... but my time on the island has made me less squeamish about killing things that want to eat me.

Our wonderful scroll stealing friend set fire to a warehouse... which it turns out was our Pathfinder's warehouse... not sure yet how this will affect our departure... still we chased him for what seemed like the whole city, while the dogs ran wild and the docks burned... Ironically NOW there are no guards... We dealt with the two arsonists... with a mild debate over killing them or keeping them alive...

We kept them alive for now... As it turns out the rumor is that there was a pathfinder there who was taken captive. The arsonists work for 'the brotherhood'... Not sure what that even means... but I've known of a few brotherhoods, and they NEVER amount to any good... OH and they want us 'interfering foriegners' dead! Which is REALLY fast, seeing as how we JUST interfered!!




Colin Marcus

Admin




Posts

: 1831


Join date

: 2009-09-19


Age

: 42


Location

: Impresk




16th of Rova

HEY, Look what I found at the bottom of my pack... Almost forgot I bought this stupid thing..

Wow... been awhile...

Almost a month since the fire... What should I write about that? Well... Everyone ditched me at the fire, and went off to rescue Gezrin, while I spent the evening rescuing women and orphans who had been holed up in the warehouse district...

Why??

I don't know... Apparently that's where Women and Orphan's hole up around here... I suppose a roof over your head is a roof over your head...

Caught up with the group later.. and seems they had an eventful night too... Killed the leader of the brotherhood... rescued Gezrin... ehhh a little worse for wear... and we left shortly afterward. Turns out he worked for the pirates I wasn't worried about in the least... Go figure!

I think Kali's snake ate him... I SWEAR that thing is bigger than I remember!!!

Amivor Gave us our 'signals' to leave for the pathfinders so they could follow us and they were going to be a good week or so behind us... so here's hoping it'll work out... We're trying to both throw off the pirates... AND leave a trail for the Pathfinders... so I can only imagine SOMETHING is going to fail there... not sure which... but SOMETHING will fail...

Hmmm.. What else happened... It was suggested we enter an abandoned mine to cut a measly day off our travels... wasn't worth it...


OHHH We helped the friendly tribe in the Laughing jungle deal with some giant carnivorous man-beast things... That was interesting... In all honesty the pleasant happy people of the laughing jungle REALLY makes me nervous about the 'Screaming Jungle'... They seem... too... precise in their naming!!!

None of which will matter if I don't MAKE it to the jungle! About a week ago I was nearly killed by lions and drug off in the night... Looking back on my life, I really have no idea WHAT I did to make the natural world hate me so much... MUST be something from my human mother... I mean... Nature LIKES elves RIGHT??

I mean SERIOUSLY!!! What is with NATURE!!! I'm really getting nervous... In hindsight there was probably LOTS of ways to make a fortune that didn't involve going into the jungle...

Oh well... my course is set...

What else interesting happened... OH!!! The crazy cursed evil tree of plague zombies... That died fast, but Deklan was remarkably ill after that... I drank the anti-plague I traded the laughing tribe a shiny dagger for... but I'm still keeping my distance from Deklan... Word is he's cured... ehhhh Not taking the chance...

Soon we'll be in Kalabuto, and the journey continues....


Colin Marcus

Admin




Posts

: 1831


Join date

: 2009-09-19


Age

: 42


Location

: Impresk



Well...

Looks like we just can't get a break....

After FINALLY arriving in Kalebuto, things finally seemed to be looking up for us. We found the dwarf, we got some money... along with all the supplies we could think of. To be honest... I think the locals were taking advantage of us, pawning off cheap crap and claiming it's good luck charms... but I'm not taking any chances!!

It was agreed to sell our horses and mules... APPARENTLY it's too difficult to traverse the jungle with them... Though I MAY have outsmarted the others... I STILL intend to carry out more treasure than I alone can carry. I found me a pair of riding dogs!!! Great beasts that can carry a full grown gnome or halfling into combat... can certainly carry a bit more gold for me. The breeder called them Jibwa and Farasifupi. My Polyglot is still a work in progress, but these names sounds as good as anything else...

We bought a couple of rowboats to seek out the ship on the lake to the south, but again things don't go smoothly for us. The night before we aimed to go, Deklan had people sneaking into his room. I was on watch downstairs trying to get acclimated with my dogs, and heard a ruckus upstairs... Apparently the thieves didn't expect to find Kali in his room... Admittedly, I don't know what the story behind that is either... and don't really WANT to know...

Regardless, the thieves came across Half-orcs, bear traps, and giant snakes... and not particularly in that order. As I raced upstairs, Reegan's door blew off the hinges and he came running out just trying to live. Like a fool, I raced into his room to see what the problem was... Two local rogues who quickly flanked me and stabbed me to death...

or near enough.

When I awoke, Reegan must have given me a potion or something... but before I knew what was going on, everyone was jumping out the window!!! It was chaos personified...

Apparently, when all was said and done... we had one intruder still alive. After some questioning, and threatening, and finally I used my new charming powers (at least I assume it's new... I've always been charming...) to twist his mind to our favor. Apparently he and the others had been hired to kill us all and capture the mage. I'm mostly insulted that we were only worth 50g.

It was quickly decided that we should meet with the employer and try to ambush him Reegan dressed like a rogue, and Deklan feigned unconsciousness while my new friend... ehh I never got his name... went to arrange delivery. Kali and I snuck around the buildings and tried to get a better view from above...

It was a disaster. There was someone up on my building. Short... like a dwarf or halfling probably... who quickly cast a darkness spell that blocked even my eyes. If I'd THOUGHT about it, I could have used a couple of spells to make their life more difficult... but in fairness, at this point I don't think they were as hampered as we were by the darkness...

I shot randomly and tried to hop off the side of the building to prevent the boss man from escaping. Which... resulted in leaving the caster on my building alone and free of problems, while the boss man never attempted to flee... There was a lot of fighting in the dark... and there was a lot of pain on our side... I think Reegan nearly died... the snake nearly died... Deklan flew away...

Eventually Kali called for retreat, choosing to leave her precious snake dying in the alley. I was the first one to breach the darkness... and with the time it took the others to arrive, I can only assume that they didn't leave like they were supposed to... If Retreat... doesn't mean RETREAT... then we need better call phrases. Doesn't look good on me being the only one to run away...

Eventually they all made their way out, and Kali' seemed upset at losing her massive monstrous snake beast... Honestly, I'm not sure WHY I offered... but once it was assumed that the murderers were gone... and the darkness wasn't going anywhere... I offered to sneak back in and use our wand to bring it back... It HAD been right next me when it fell... and I nearly tripped on it during the retreat...

We eventually made it back to the dwarf's house, a bit deflated and very tired. We hadn't really found out anything more than if we'd just have killed our prisoner and went back to bed... SOMEONE knows we're here... and out of all our enemies/competitors we don't know who...

I should stress the importance in the difference between 'Enemy' and 'Competitor'. At this point... in this place... I really haven't done ANYTHING to justify a bounty... We're ALL trying to go to the same place... I only want as much gold as me and the two dogs can carry out... REALLY... We can all work TOGETHER about this... Pathfinders have their own goals... but that's really a good reason for the pirates and the ninjas to kill THEM!!! Not US!!!!

IF they get their chance...

The boat trip down was rather peaceful. There were plenty of tribes around here, all eager to trade and barter for whatever they could... They informed us that there was a local legend of something in the lake we were heading to.

Well... they were RIGHT!!!


Reegan went splashing around in the water for a while, and found the ship we wanted... he attached a rope, brought it to the boats... and upset a giant freaky monstrous Lake Monster!!!

Reegan and Kali were the first to be attacked. Their little boat didn't last long, though as soon as they were in the water the beast left them alone. I had THOUGHT to spark the water a bit and chase it off... kill it.. something... but I'm not 100% sure what would happen with my powers in the water... And with Reegan and Kali in there, it MAY not have been a good idea...

Deklan summoned a batch of water elementals to drag the treasure to shore and attack the beast... All things considered... it was still too far away for me to do anything... My intention had been to leap from the boat, land on it's head and ride it. While stabbing it in the head and shocking it for all I was worth...

Yes... that would undoubtedly killed me... Still it would have been a cooler death than Dysentery.... And my options were few. I was starting to look forward to the ride when Deklan summoned another elemental to grab our boat and pull it to safety.. THAT was an interesting ride... but I was almost disappointed I didn't get to do the heroic leap onto the serpents head....

Fortunately his quick thinking got everyone to shore, and nobody died at all...

Which is better....


Colin Marcus

Admin




Posts

: 1831


Join date

: 2009-09-19


Age

: 42


Location

: Impresk



Apes... Giant Apes....


Filled with Demon.

Colin Marcus

Admin




Posts

: 1831


Join date

: 2009-09-19


Age

: 42


Location

: Impresk



18th of Lamashan 4710 (I think....)
Well... this has been an interesting week... month... Who knows? I'm so sick of the jungle, every day seems like more of the same. Some days you never even see the sky for the trees... Let's see... the last thing that struck me worth writing about was... the apes. Well.. one ape... but it was a BIG one... I'm a little fuzzy on the details, but whatever happened there seemed wrong. I don't know HOW we defeated that demon thing... but I know in my heart, by all rights we should have died that night...
Later that night, Squee tried to take my monkey skull fetish... Which..
probably
would have worked on that demon... Glad nobody died... in hindsight that would probably have been my fault. Would have felt bad...
But that was in the past!!! On to more recent acts of heroism performed by myself!!
We came across some giant mosquitoes... one of which I killed... but it's hundreds of thousands of little baby mosquitoes chased me to the river, while the magic users did what they could. That night... the chills started, offset by horrible sweats... It was different from Dysentery. It disturbs me greatly that I recognized that...
In the long run I guess it doesn't matter WHAT I got from the blood sucking parasites... because Reegan had me drink some strange concoction that cleared up the symptoms right away... well.. some of the symptoms. I still had a weakness and soreness of limbs that had to be contributed to the plague of the day... but it passed too... What took LONGER to pass was the itchiness of 12500 mosquito bites. I swear I lost a pint or two that day... I had bites on top of bites!!!
Apparently this is not such an unusual occurrence in the jungle... and Kali knew some kind of herbal remedy to help soothe that too... though the nights are still hell...
Days of unending nature went by... and dangers surround us everywhere... even the trees themselves sometimes try to kill you... but fortunately, Kali can recognize and avoid them... Harder to avoid are the tomb raiding witch doctor psychos and their pet undead trolls...
We all took turns pelting the troll with missile weapons as best we could... but it was FAST!!! As it charged in to attack the others, The witch doctor in the tomb started firing magic at the others... and healing the troll. THAT wasn't allowed... Heroically, I charged the tomb as he flew out of it. The others quickly dispatched the troll... and the elementals came to help me with him... Then I turned around and the others were GONE!!!
FLED!!
Leaving me
all alone
to deal with the flying mage/priest/thing on my own... well, with the elementals.. I strove to take away it's advantage of flight by fighting inside the tomb...
Short version is he died very shortly, and i have a new mask. The others agree that it looks quite terrifying. I just think it looks cool.
After what seemed like FOREVER, We finally made it out of the jungle. Back to the plains where we can see our enemies, and they can see us for miles around... In theory...
First day out, we ran across a rhinoceros herd. Small herd, but very... territorial. Kali insisted on trying to charm one... and it worked! At least for a LITTLE while... Soon we had all the rhino meat we could carry.... which if the only survivor hadn't been so ornery... would have been a lot more. As it stands... all of them had to die.
The next encounter was much more pleasant. After a long and arduous day's journey we came to a wonderful place to camp. Not too far from the river... a place to avoid that noon sun... Just within sight of three gorgeous women bathing... Basically everything I look for in a camp site!
Next thing I know Kali is running toward the women shouting about a flood... Admittedly I'd noticed the water getting a little higher... but didn't think much of it. But next thing I know, I'm running toward the river just in time to grab hold of an especially lovely woman right before a giant wall of water slams into us both. I drove my sword deep into the river bed just before impact but sadly not deep enough. Next thing I know all five of us are being swept down the river. Kali had solids grips on the other two, and I wasn't letting mine go as we all fought the current to try for shore.
Reegan kept throwing a rope at me. Kali was using Bwana shika' to aid her attempts... and soon Deklan joined in and I felt the current of the river change direction, pushing us toward shore... At least I assume it was Deklan, It had his distinctive 'Elemental summoning'
feel
to it.
No longer in IMMEDIATE danger of drowning and having my bloated carcass flow back into the Screaming Jungle for Demon Apes to feast on... I introduced myself to my rescuee. Her name as it turns out is Zakiyya, and seems to be a lovely person.
I wish I could say that was the
strangest
introduction I've made with a pretty girl...
Once we all reached shore, the ladies all dressed again...
Apparently
having left their clothes more than 60' from the rivers edge... As that's where the NEW river's edge is... Just lucky on their part I guess...
Turns out they are spirit dancers much like the ones who danced back in Kalebuto... but... legit. In gratitude for the overly heroic rescue, they offered to seek out our animal spirit guides... Deklan avoided it like the plague... I embraced the idea... like the plague...
In my defense... I didn't realize there were needles and tattooing involved when I agreed... and sadly, this is also not the worst idea a pretty face has talked me into in the past...
Nor was I alone. Reegan agreed and found himself spiritually attached to the eagle. Kali, no surprise, was the snake... SHE seemed to embrace the idea of the tattoo... and from what I've heard, it crosses most of her body... Myself... I assumed it would be some kind of Lion, or wolf.. some powerful predator...
I got a monkey.
Which.. I SUPPOSE is ok... I think a Jaguar would have been more appropriate... or a Dragon...
Squee seems amused.
The tattoo looks kind of good though... Unlike Kali, I went a little more conservative... but now I have a tattoo of a dangerous looking monkey right over my heart.
Ahhh mother warned me about those 'permanent decisions...' At least it doesn't look comical.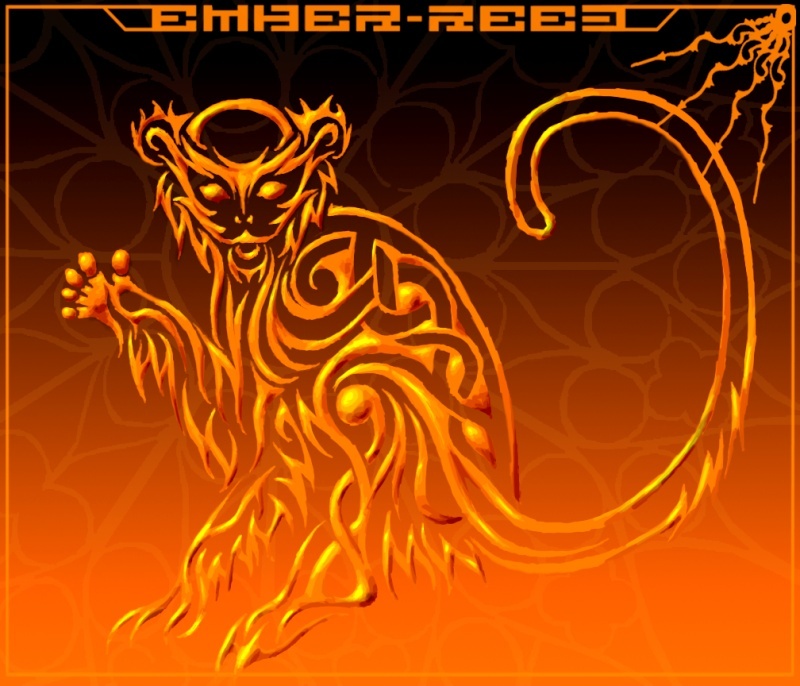 Colin Marcus

Admin




Posts

: 1831


Join date

: 2009-09-19


Age

: 42


Location

: Impresk





Similar topics
---
Permissions in this forum:
You
cannot
reply to topics in this forum